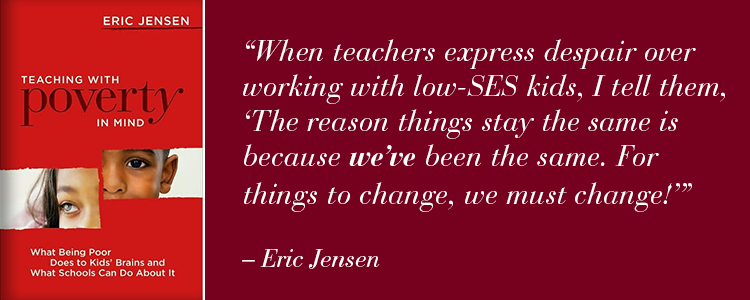 "When educators believe students are competent, students tend to perform better; conversely, when educators believe students have deficits, students tend to perform more poorly." Eric Jensen, Teaching with Poverty in Mind
---
Jensen's comments relate directly to last months' book review of Mindset by Carol Dweck. If educators engage a growth mindset regarding students from poverty, positive results are possible.
But in order to achieve these positive results, educators need first to understand how poverty affects students and their learning and then implement action steps that lead to success. In Teaching With Poverty in Mind, Jensen combines research, experience, and stories from successful schools to outline:
What poverty is and how it affects students in school;
What drives change both at the macro level (within schools and districts) and at the micro level (inside a student's brain);
Effective strategies from people who have succeeded and ways to replicate best practices;
How to engage resources to make change happen.
Living in poverty can cause detrimental changes to the brain and have profound life-long affects; however, providing a rich, balanced learning environment and caring relationships has the potential to enrich the minds and lives of all students.
---
Check it out!
Teaching With Poverty in Mind – What Being Poor Does to Kids' Brains and What Schools Can Do About It, Eric Jensen; ASCD, Alexandria, VA. 2009.