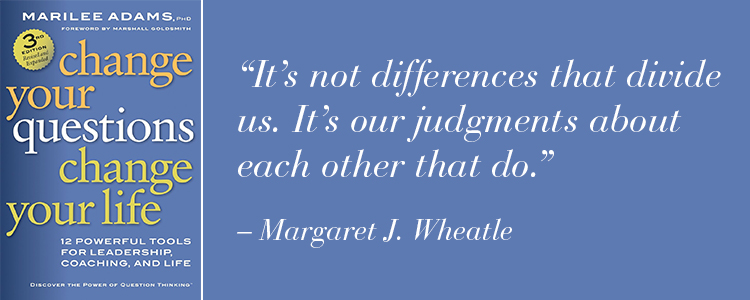 Ask yourself, "Am I a Learner or a Judger?"
Marilee Adams in her book, Change Your Questions, Change Your Life, poses two life-defining questions, followed by some sample questions to assist in a self-reflective examination to help frame thinking, listening, speaking and relating.
---
Do you conscientiously take a learner approach?  Or are you inclined to have a judger mindset?
| Judger | Learner |
| --- | --- |
| How can I prove I'm right? | What can I learn? |
| Haven't we been there/done that? | What are the best steps forward? |
| Whose fault is it? | Am I being responsible? |
---
Adams shows how the kinds of questions we ask shape our thinking and can be the root cause of many personal and organizational problems. The book uses a highly instructive and entertaining story to show how to quickly recognize any undermining judger questions that pop into your mind – or out of your mouth – and reframe them to learner questions to achieve amazingly positive and practical results.
Change Your Questions, Change Your Life is a personal growth fable that tells how a seasoned executive, Ben Knight, uses Question Thinking to move into a higher leadership role and how the same methods of change help him and his wife, Grace, enrich their marriage.
"We all began asking more questions – Learner questions. These days I smile as I observe people deep in thought studying their Choice Maps as they work through problems or prepare for meetings. . . I have learned to listen in new ways . . . and to stay on point even when conflicts threaten, which happens less and less frequently." – Ben
'That's what I realized after studying the Choice Map . . . You know what became clear – we've both been going down the Judger path. I know I've been judging myself and you, and I see you being in Judger too.' – Grace
This book is a helpful resource for individuals and teams – school leaders, board members, teachers, and support staff – looking to improve communication and make positive change. The twelve tools included show how Question Thinking can dramatically improve coaching and leadership.
---
Check it out!
12 Powerful Tools for Leadership, Coaching, and Life (included in the book)
Choice MapTM (Included in the book with printable copies at http://inquiryinstitute.com/)
Change You Questions Change Your Life – 12 Powerful Tools for Leadership, Coaching, and Life, Marilee Adams, Ph.D.; Berrett-Koehler Publishers, San Francisco, CA. 2016, 3rd edition.