U.S. News and World Report Best High Schools
Each year, U.S. News and World Report recognizes high schools for producing measurable academic outcomes that demonstrate they are successfully educating their students across a broad range of performance standards. The CMU-authorized charter public high schools that were recognized on their 2018 Best High Schools list are:
Academic Performance
CMU-authorized charter public schools are nine of the top 25 performing charter public schools in the state based on 2017 M-STEP results.
3. Canton Charter Academy
4. South Arbor Charter Academy
5. Cross Creek Charter Academy
6. Eagle Crest Charter Academy
10. Holly Academy
13. A.G.B.U. Alex and Marie Manoogian School
19. Noor International Academy
21. Island City Academy
23. Walden Green Montessori
The longer students are enrolled in a CMU-authorized charter public school, the higher their rates of proficiency are in English language arts and math in grades three through eight for the 2017 M-STEP test.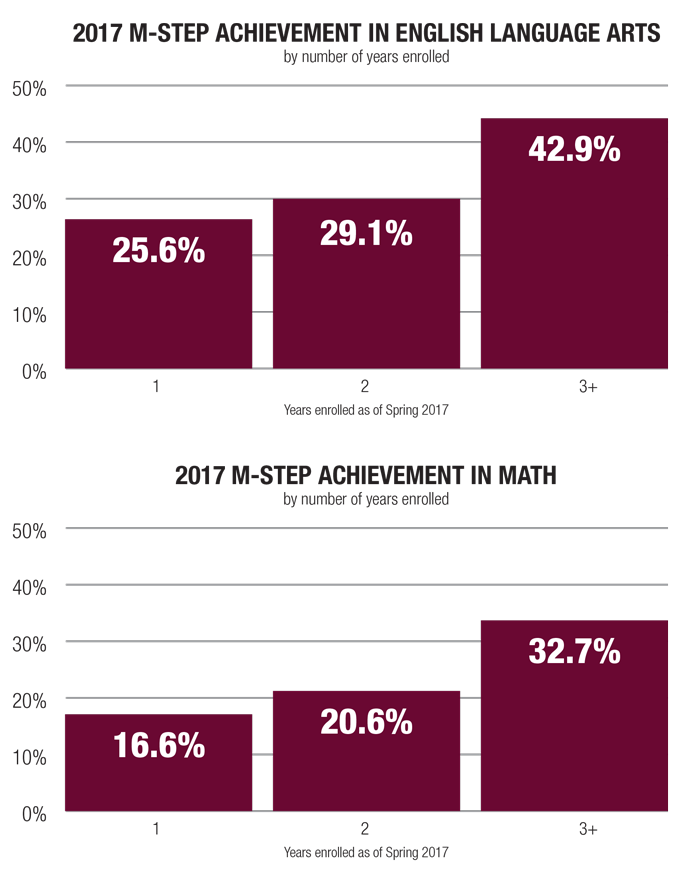 Michigan Charter School Administrator and Teacher of the Year Awards
There is a tradition of excellence with award-winning leaders serving the students in CMU-authorized charter public schools. Our schools had two teachers recognized as finalists for the 2018 Michigan Charter School Teacher of the Year award. Schools represented in this group of finalists are Trillium Academy and Woodland Park Academy.
Past winners of these awards from CMU-authorized schools include:
2018 – Kristina Price, Trillium Academy (Teacher)
2017 – Gordy Hyska, Charyl Stockwell Academy (Teacher)
2015 – Dr. Luay Shalabi, Central Academy (Administrator)
2012 – Julie Kildee, Holly Academy (Administrator)
2010 – Matthew Briere, Trillium Academy (Teacher)
2008 – Lori Zemke, The Da Vinci Institute (Teacher)
2007 – Amy Straus, Central Academy (Teacher)
2005 – Lisa Koski, Trillium Academy (Teacher)
2004 – Bonnie Brock, The Midland Academy of Advanced and Creative Studies (Teacher)
2003 – Kim Nelson, Morey Montessori Public School Academy (Teacher)