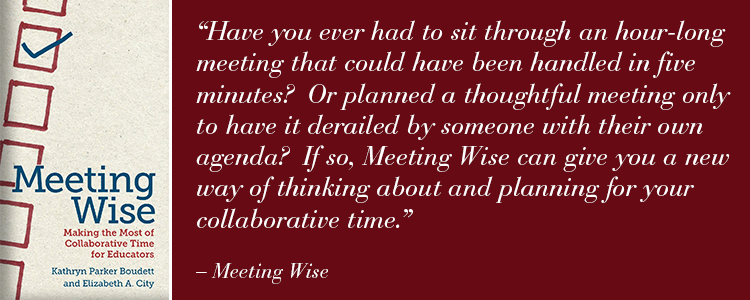 This book attempts to bring about a fundamental shift in how educators think about the meetings they attend. Meetings are one of the most important venues for adult and organizational learning in schools, and making more effective use of this time is the key to increasing student achievement.
---
In Meeting Wise, the authors show why meeting planning is a high-leverage strategy for changing how people work together to advance school improvement efforts. The book includes a meeting-planning "checklist" to develop a common language for discussing and improving the quality of meetings. There are also guidelines on "wise facilitating" and "wise participating," and "top tips" and common dilemmas.
Meeting Wise is designed to be read and applied at every level: principals' meetings with teachers, school board meetings, professional development sessions, teacher-team meetings, and even teachers' meetings with parents and students.
---
Check it out!
Meeting Wise: Making the Most of Collaborative Time for Educators, Kathryn Parker Boudett and Elizabeth A City; Harvard Education Press, Cambridge, MA. 2016.