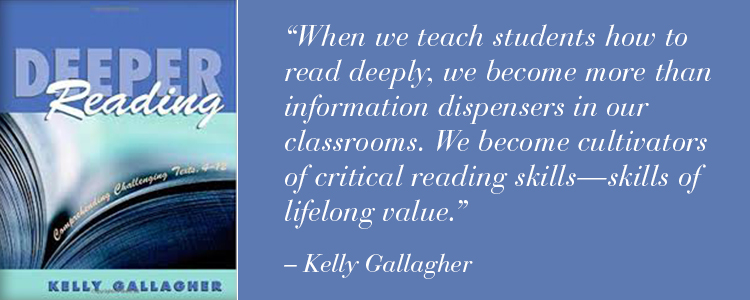 Deeper Reading explores the difference between "assigning" reading and "teaching" reading. Gallagher believes that teachers are the critical factor in helping students to become better readers. The strategies presented assist teachers in crafting lessons that help students achieve deeper meaning when reading complex text.
---
Based upon research and classroom-tested experiences, Deeper Reading outlines:
A Model for Teaching Challenging Text. The model moves the student from a surface level understanding to a deeper level of understanding. In essence, the model provides techniques on how to frame the text, strategies to engage the reader, and the significance of collaboration, metaphors, and reflection.
How first- and second-draft reading strategies focus the reader and support student comprehension. The strategies presented can be adapted to any type of text (e.g., novels, textbooks, primary sources, etc.).
The importance of designing activities that foster student collaboration. When working in groups, students' increase skills in critical thinking, communication, reading and writing.
The value of reflection as students learn to connect the text to themselves and the world.
Across the country, teachers encounter students who ask the question, "Why do we have to read this?" Gallagher's model supports educators in not only addressing this question, but also provides guidance on effective lesson planning that delivers engaging reading instruction. The strategies shared in this resource empower students to think critically, think metaphorically, and to reflect–all which will lead to deeper comprehension.
---
Book Study Questions for Deeper Reading
According to the author, the adolescent reader needs support and scaffolding prior to a reading assignment. What ways do you provide support/scaffolding for your students?
Describe the dangers of not spending time "focusing" the reader.
Throughout the text, the author describes the importance of a second reading. Discuss your position on second readings.
Consider how you have grouped students in the past for collaboration on an assignment. Based on your reading, summarize how you will modify your grouping techniques.
In Chapter 7, the author addresses the visual side of metaphor creation, providing several examples. Describe why the use of metaphor is such a powerful strategy.
"Why do we have to read this?" is an all too common question voiced by adolescents. Using the suggestions in the text, describe how you will respond the next time students ask this question.
Deeper Reading, Kelly Gallagher; Stenhouse Publishers, Portland, ME. 2004.