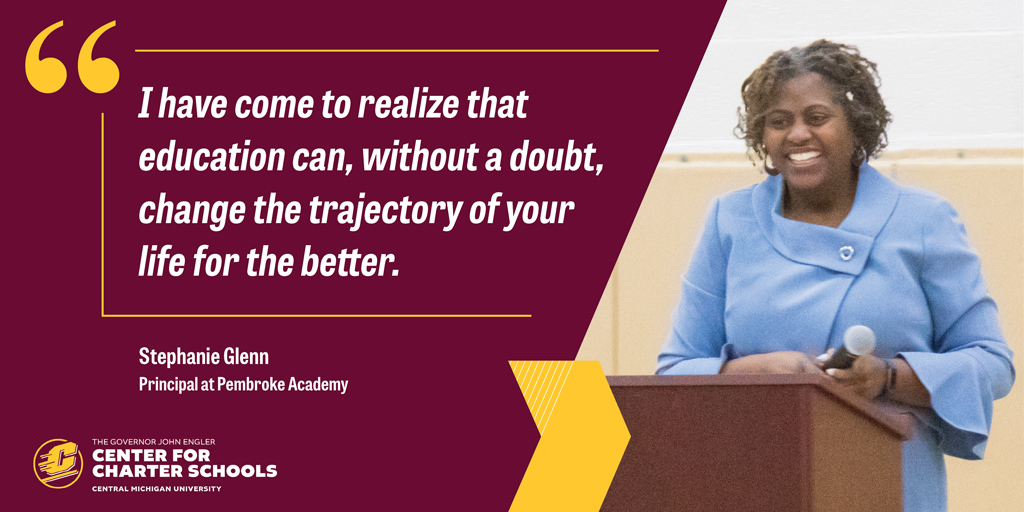 If there's one thing charter public school leaders are known for, it's their vision and determination. Both are exemplified at Pembroke Academy, where founding principal Stephanie Glenn is working to ensure elementary and middle school students are well-prepared for college, career and life.

"My vision for the future of Pembroke Academy is an elementary and middle school where teachers are committed to providing and ensuring scholars receive a high-quality education," Glenn says. Her vision also includes "parents who actively attend our monthly Parent University courses which will equip them with becoming highly effective partners in our collective goal to educate their scholar to achieve their greatest potential."
Glenn, a 26-year veteran in education, is a keen lover of learning.
"I have come to realize that education can, without a doubt, change the trajectory of your life for the better," she says. "I want to empower students who had no control over their circumstances to which they are currently a part of to have knowledge that through education and their dedication to it, they can determine the circumstances of their own adult life."
With Pembroke Academy now in its fourth year of operation, its earliest growth has been hugely impacted by the global COVID-19 pandemic. With Glenn at the helm, however, the school has been kept safe, united, and focused on its goals.
"My previous experience as a school leader helped me to navigate during the crisis in a number of ways. First, by remaining calm and keeping the team calm," she says. "We had to keep the focus on the main thing—teaching and learning—although the avenue was no longer in a brick-and-mortar school building, but via technology and parental support and facilitation of instruction. With observations, review, and feedback from all stakeholders on the good, bad, and ugly, we adjusted and kept 'the main thing, the main thing.'"
Of course, there has been inspiration all along the way.
"There is a particular middle school student who has truly become the wind beneath my wings," Glenn says, referencing a student who's been battling cancer even as pandemic worries continue. "This student consistently uses the virtues that we explicitly teach of perseverance, compassion, and courage as they strive to not only maintain, but to excel in their studies, while going through this life altering event. They don't complain, they continue to check on their classmates and teachers alike, and they continue to strive towards excellence.
"This student is an inspiration to my work this year as they remind me that independent of the circumstance or challenge which comes our way by no fault of our own, we must remain focused and dutiful of the tasks while simultaneously checking and ensuring that those around you are doing well – socially and emotionally."