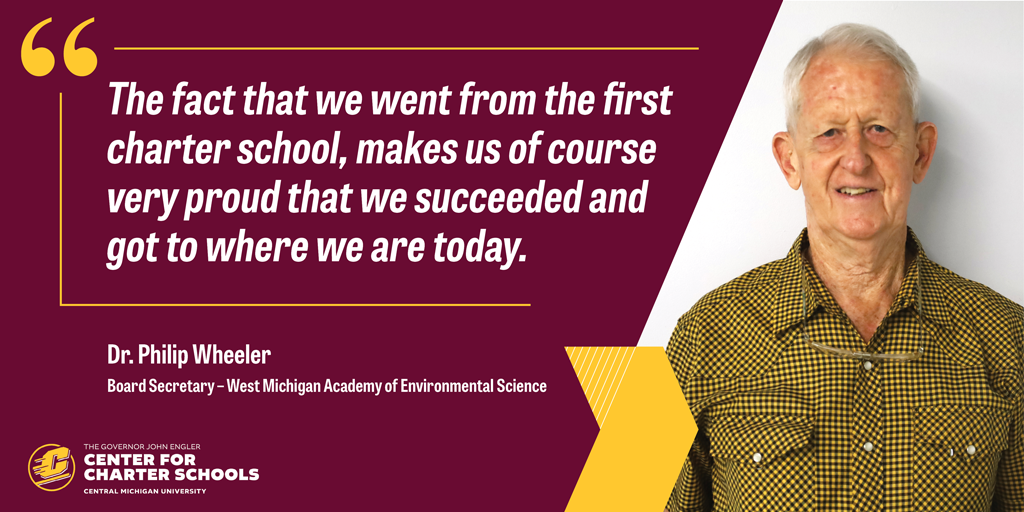 We all know there's more than one way to learn. That's why charter schools exist. Because while some students thrive in a traditional model school and classroom setting, others are better served by a different approach to learning and discovery. Thankfully, that's exactly what the West Michigan Academy of Environmental Science (WMAES) has to offer.

At WMAES, learning extends beyond the classroom, 62 acres beyond to be precise.
Learning through discovery is the driving philosophy at the West Michigan Academy of Environmental Science. And to facilitate that, WMAES offers its students a sprawling 62-acre campus that provides countless opportunities for science and nature to guide and inform the way students learn and grow.
Now in it's 26th year of existence, WMAES is one of the first six charter schools in Michigan, and Dr. Phil Wheeler has been involved from the very start.
As an accomplished soil scientist, Dr. Wheeler was first approached to assist in identifying a suitable site for WMAES's campus, and a year and half later he was asked to serve on the school's board—a position he retains to this day.
"The fact that we went from the first charter school, makes us of course very proud that we succeeded and got to where we are today." Dr. Wheeler credits their partnership with Choice Schools over the past 20 years to making it possible to continue to progress and grow as a school community.
And that growth is evident. In addition to its network of trails, land and working garden, WMAES's campus now boasts a high school, a new elementary school, recent additions to the early childhood center, and notably, the Dr. Phil Wheeler Environmental Center—an environmental science classroom utilized by all K-12 student at WMAES.
Dr. Wheeler shared that the school has always known that constant improvements to the school facilities were critical to serving their students. "We make constant progress, we spend the money wisely, and we still end up with an amazing fund balance."
Thanks in part to Dr. Wheeler's hard work and prudent oversight, the West Michigan Academy of Environmental Science is a thriving school with its sights set on the future.
Last year, the school received a 10-year extension on their charter contract.
"Receiving the 10-year charter contract from CMU recently was such a great moment for me. It just shows that everything has been successful – teachers, administrators, Choice Schools, boards – we did everything to the best of our ability, and it came out right."