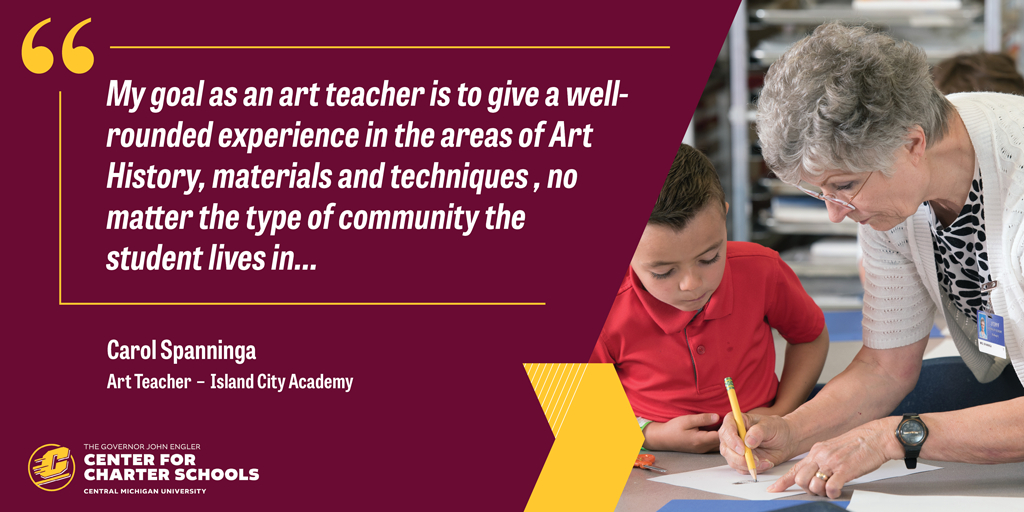 No one escaped the need to change and adapt during the pandemic, including the teachers and students in Michigan's schools. Students had to adapt the way they learned, just as teachers had to adapt the way they taught.
For some, the move to online learning was an easier transition. Some subjects lend themselves well to being taught through a computer screen.
Carol Spanninga teaches one of the subjects that doesn't traditionally fit as well with online learning.
For the past 52 years—the last 18 of which have been spent at Island City Academy in Eaton Rapids—Carol Spanninga has taught art. In those 50 plus years, she's taught all ages and abilities, but always in-person.
Art is a rewarding subject to teach and Ms. Spanninga sees that in her students that didn't have as much self-confidence and ultimately became stronger individuals as they discovered a talent that they didn't know they had in themselves.
"My goal as an art teacher is to give a well-rounded experience in the areas of Art History, materials and techniques, no matter the type of community the student lives in and to have the student realize that art is very much involved in their own surroundings."
It was something she didn't want to let go of when her school moved to online learning in March of 2020.
To that end, Ms. Spanninga began videotaping her lessons to upload on YouTube with the help of Aaron Warren, Island City Academy's principal. She also adjusted the semester's assignments to work around the kinds of materials and supplies students likely already had in their homes.
Once students returned to in-person learning, she continued to record her lessons for any of her students that were learning online.
Over her years of teaching, Ms. Spanninga has worked with students who thought art was just a class. Of these students "some became artists themselves while others have used their art education in their own businesses."
There is no doubt the impact Ms. Spanninga's art classes had on the many students she has worked with over the past 52 years.