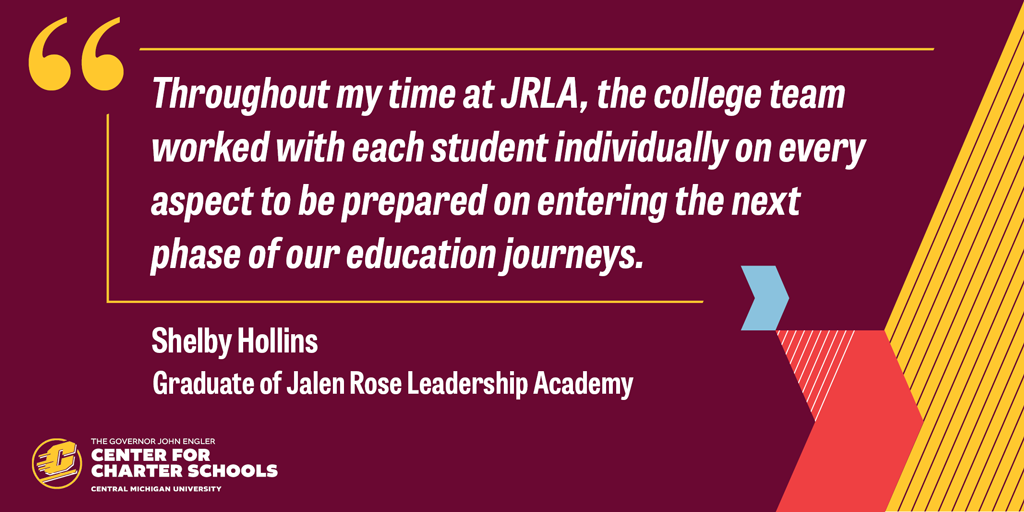 When it comes to the success of students in the charter public schools it partners with, Central Michigan University goes the extra mile. The university provides Spirit of the Future Scholarships to charter alumni who choose to attend CMU after graduation—and Shelby Hollins, a graduate of Jalen Rose Leadership Academy, is one of its current recipients.

Today, Hollins is a CMU junior majoring in health administration and minoring in substance abuse. She is involved in the Nonprofit Leadership Student Alliance and the Collegiate Health Administration Preparatory Society on CMU's campus. She also volunteers with R.I.S.E Advocacy, a non-profit that helps and guides survivors of sex abuse and/or domestic violence.
"Receiving this scholarship has reduced my financial difficulties, gave me the motivation to continue my education, and helped me put aside my doubts during my academic journey," Hollins said. "My college career is supported by having a team of individuals who are checking up on me during the semester and asking if I need any additional resources."
Hollins said her family chose JRLA due to its 9-16 model and small class sizes, that they were happy with the choice.
"Throughout my time at JRLA, the college team worked with each student individually on every aspect to be prepared on entering the next phase of our education journeys," Hollins said. "Faculty gave support and honest feedback through the process of being a college student."
In the future, Hollins said she hopes to work in public health.
"I want to focus on health practices, educating individuals on health promotion and disease prevention and providing educational webinars and hands-on activities," Hollins said. "In the future, my plan is to focus on working with communities to provide more resources and support, which will guide me into building beneficial relationships that can help people grow."