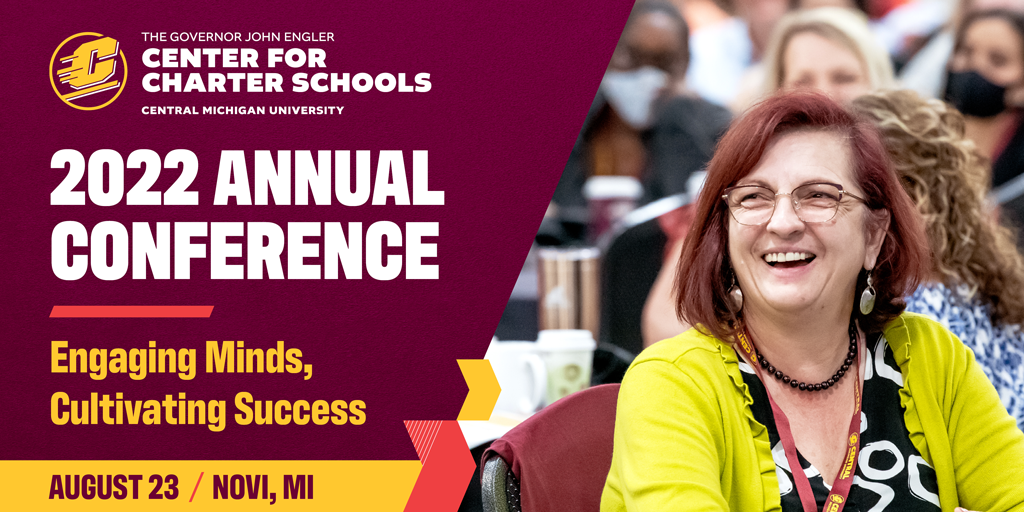 Sessions
Click on the session titles below to view the session's information, including a description, presenters, intended audiences and resources.
Pre-Conference Breakout Session  (8:00 a.m. – 8:45 a.m.)
Legislative Update
Using Differentiation to Fill the Gaps
Keeping Your Battery Charged When Powering Down Is Not an Option
Breakout Session I   (10:15 a.m. – 11:15 a.m.)
Equity & Experiential Learning
Grammar, Phonics, and Vocabulary Instruction Through Writing Mini-Lessons
Joy to the World! How to Make Learning More Joyful AND Productive
Establishing Math Routines for ALL Learners
If Your Hair Is Not on Fire, It Should Be: Michigan Is Losing the STEM Battle
Thinking Strategically – Panel Discussion With West Village Academy Stakeholders
Breakout Session II   (11:30 a.m. – 12:30 p.m.)
The Power of Social-Emotional Learning
Supporting Literacy Interventions in Elementary and Middle School Settings
Show Me the Data: Comprehensive Approach to Fostering a Data-Driven Culture
Rudder or Anchor? Board Members Who Make a Difference
Why Mattering Matters
How I Created an Exceptional Testing Environment, and You Can Too!
Networking Lunch and Innovation and Vision Award Presentations   (12:30 p.m. – 1:45 p.m.)
Innovation and Vision Award Presentations
Breakout Session III   (2:00 p.m. – 3:00 p.m.)
Implicit Bias: Facing Ourselves
Game On! Improve Your Special Education Outcome With a System Thinking Mindset
Remembering Why We Do This Work - A Session for School Leaders to Connect
School Finance 101 for Board Members
Secrets of the Digitally Organized Educator
Exploring the Pandemic's Impact on Student Performance
Closing Session   (3:15 p.m. – 3:30 p.m.)
Join us for the closing session and announcement of the Innovation and Vision Award winner. All attendees of the closing session will be entered into a drawing to win prizes, so be sure to join this final session.
---
Brandon P. Fleming | Keynote Speaker
Brandon P. Fleming is a nationally acclaimed Harvard educator and author of MISEDUCATED: A Memoir. His story of struggle, success, and service has inspired millions around the world.
An at-risk youth and college dropout turned award-winning educator, Fleming is Assistant Debate Coach at Harvard University and Founder/CEO of the Harvard Diversity Project. Fleming was recruited to join the Harvard debate faculty at the age of 27. Harvard later approved Fleming's proposal to establish a new department within the university system called the Harvard Diversity Project – an unprecedented pipeline program of the Harvard Debate Council. Fleming now leads an executive staff and board that has raised over a million dollars to enroll over 150 students of color into Harvard's international summer debate residency on full scholarship. Fleming recruits underserved youth with no prior debate experience who he then trains to compete against hundreds of elite debaters from over 25 different countries around the world. For five consecutive years, since the program's inception in 2017, every cohort trained by Fleming has won the international competition.
News of the achievement instantly went viral and broke national headlines, being featured on CNN, ESPN, Good Morning America, and many more. The organization has gained the financial backing of Fortune 100 companies such as The Coca-Cola Company, UPS, Chick-fil-A, and many more. Fleming has established a groundbreaking organization that is pipelining Black youth into Ivy League and elite colleges & universities. His students have now matriculated to Harvard, Yale, Stanford, and others alike on full scholarship.
Fleming's story and achievements have enabled him to use his voice to inspire and impact lives in places ranging from federal prisons to global platforms such as the United Nations General Assembly. At the age of 29, Forbes Magazine named Fleming to the Forbes 30 under 30 list. In 2020, The Root Magazine named Fleming one of the top 100 most influential African-Americans in the United States. And in May 2021, North Carolina Wesleyan College bestowed upon Fleming the honorary Doctor of Humanities degree.
---
Partner Tables
These organizations provided resources about the services they offer for you and your students.