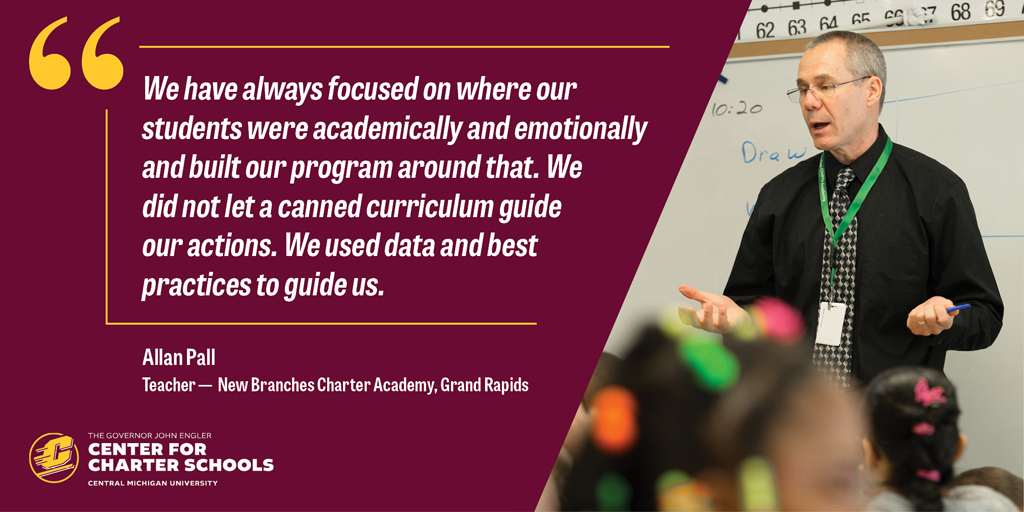 Allan Pall has been teaching at New Branches Charter Academy since it was a private school, before it re-opened as one of the state's first charter public schools in 1994. This makes Pall one of the very first charter school teachers in the entire state.

But that's not the only reason Pall is a unique educator.
"Before joining New Branches, I had volunteered in a number of schools. I noticed that there were not many males teaching in lower elementary grades," Pall said. "Too many students of that age don't have fathers living with them at home. I wanted to be a positive male role model in early education."
Pall remembers the early days of New Branches' status as one of the state's first charter public schools as being fraught with unexpected challenges.
"One big problem was that there were challenges in the court that held up our payments from the state, so the whole staff went without pay for several weeks," Pall said. "Parents took it upon themselves to give us money for groceries. We had to vacuum our classrooms and mop our floors. What got us through these tough times was that the staff stuck together through thick and thin and keeping our focus upon our students' needs."
But Pall says the close collaboration of the New Branches team made it possible to weather those difficult days.
"I have always felt that I am working with friends. Our staff has always been close, caring, and supportive," Pall said. "This has never changed. I can ask for help from anyone and they will make time for me."
It's this sense of shared purpose and direction that makes New Branches such a strong and stable part of the community.
"We partner with our parents to help their children become the best version of themselves. We are responsive to our parents, and we seem to be on the cutting edge of what is new," Pall said. "Best of all, talented staff seem to choose us. When times are tough we have proven time and time again that we are tougher. We have always been 'the little school that could.'"