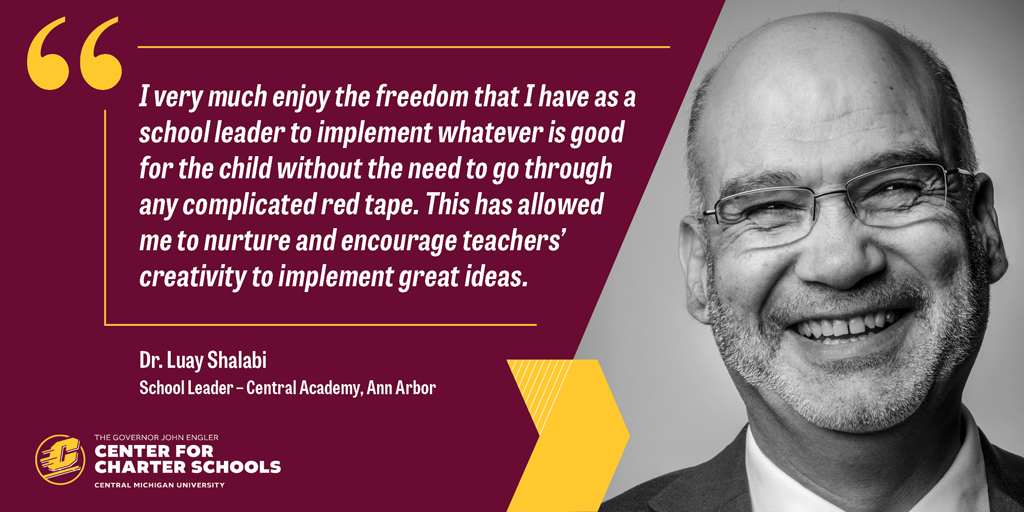 When school leader Dr. Luay Shalabi speaks about his experiences at Central Academy, one word comes to mind: joy.

"It's very hard for me to describe the joy I have when I pass high school diplomas to students who started their first year at Central Academy in preschool," Shalabi said. "Students, staff and parents have formed a very strong net over the last 25 years. Any visitor who walks in the school hallways will get that feeling from the first minute."
Shalabi should know; he's been part of the Central Academy team since its founding in August 1996. He began as a board member for the first year, then became principal of the school in July 1997.
"I was a hardworking student since my early years in school, maybe my love for school and my teachers led me to think that teaching is all what I wanted to do in my life," Shalabi recalled. "Moving from a traditional public school system to Central Academy made me appreciate and enjoy my job tenfold. I very much enjoy the freedom that I have as a school leader to implement whatever is good for the child without the need to go through any complicated red tape. This has allowed me to nurture and encourage teachers' creativity to implement great ideas."
As Central Academy has grown, Shalabi says it's developed a true sense of family.
"Today, I work with middle and high school students who are the children of students who graduated from Central Academy," Shalabi said. "I feel especially proud when I walk in a classroom to observe two of my teachers who graduated from Central Academy."
Shalabi says having Central Academy graduates now contributing as team members is particularly exciting.
"More than 14 Central alumni work with Central and our service provider, Global Educational Excellence (GEE)," Shalabi said. "Another point of pride is observing, mentoring and coaching principals in the organization including those who started as teachers with me in Central Academy. All of this has contributed to strong family ties that distinguishes Central Academy and makes it very unique."